Welcome to Advanced C-Scan Data Acquisition
Technology Overview
Productive C-Scan provides nondestructive testing (NDT) related services and technology that is the combination of high-end C-Scan data acquisition imaging systems with robust electro-mechanical and manual scanning devices. Such technology has been serving the nondestructive examination (NDE) C-Scan imaging needs of various industries for over 30 years.
Such C-Scan imaging systems are available to perform a range of inspections from zero degree corrosion mapping and composite unbonds, to complex crack detection and sizing with phased array ultrasonics.
These C-Scan systems are ideally suited for both novice and expert users. They incorporate an easy to follow software interface windows environment coupled with the logical steps (as modules) that any inspector would naturally follow in the course of performing an NDE examination.
Productive C-Scan offers well-known piping and vessel inspection C-Scan imaging systems. The same technology is also available in other standard scanners such as the one below.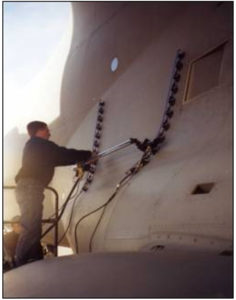 "Catamaran" Large Area Inspection Scanner on a C-17 Aircraft
Advanced C-Scan technology has been around for a long time and has a wealth of knowledge and experience to share with our customers. For a snapshot of that experience, please take a spin around our website and contact us when the need arises.
Copyright 2017 AMDATA NDE Technology LLC, All Rights Reserved.