Welcome to Productive C-Scan, your best resource for selecting nondestructive testing methods, developing inspection techniques, and efficiently transitioning from proof of principle to production use of C-Scan technology.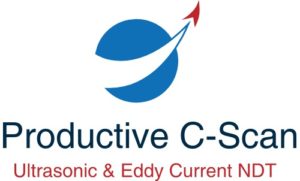 In addition to providing C-Scan specific consulting and training services, we are also a manufacturer's representative for AMDATA IntraSpect™ products, systems and services. What makes Productive C-Scan™ unique is that we not only sell C-Scan systems, we also constantly use them. As a result, we are extremely knowledgeable in their capabilities.
Due to our close proximity and prior history, we have a direct line to the manufacturer to provide Continuous Improvement (CI) inputs. One such improvement was the addition of a 100 point polygon motion control capability for portable robotic scanners. This greatly increased that product line's capability, particularly in the inspection of aerospace components, including both metal and composite parts.
The IntraSpect product line continues to grow in capabilities as a direct benefit of its constant use in nuclear power generation related inspections. For example, its Data Set capability is a game changer for single channel systems – it allows up to 8 groups of data to be collected at the same time!
Productive C-Scan has also grown in capabilities. We are now also a Sales Representative for shot peening systems and services, another Special Process in the aerospace world.
Return to the top of this page
Copyright 2020 AMDATA NDE Technology LLC, All Rights Reserved.