Automated Scanners
The following are the current line of standard product automated scanners for use in C-Scan Systems:
5085 Scanner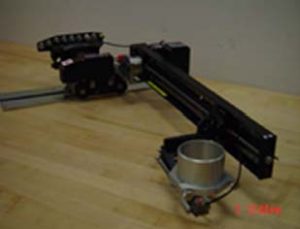 The 5085 is a versatile scanner to be used in a wide range of applications from scanning piping in nuclear power plants, to scanning composite helicopter parts in NDT inspection service labs. The 5085 scanner has the following options:
·         Interchangeable lead screw Y-Arms of various lengths, a 2 foot long Y-Arm is shown above
·         Belt driven Y-arm for large areas and high speeds, a 5 foot long Y-Arm is shown below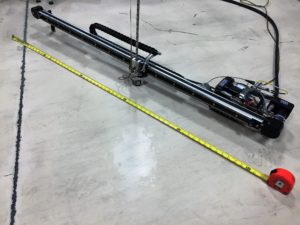 ·         An aerospace applications package: various special features proven to be very productive to inspect aerospace parts.
5015 Scanner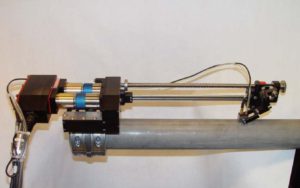 The 5015 is a low profile scanner with a fixed lead screw Y-arm for small diameter piping and shafts. Its signature application is inspecting pipe diameters down to 2" (51 mm).
5080e Scanner

The 5080e is the latest product line improvement especially to meet field service applications. Its motors and encoders are completely enclosed within a compacted space.
50XXe Retrofits
Retrofit packages are also available to backfit the same type of enclosure design into existing 5080, 5085, and 5090 scanners.
6310 Catamaran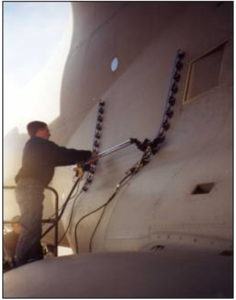 The Catamaran, also known as the Large Area Inspection System (LAIS), is an extremely flexible, large area scanner. It was originally designed to inspect surfaces of military cargo aircraft. It has also been used to inspect rocket domes due to its ability to scan elliptical triangular areas (i.e., pie shaped sections on a bullet shaped profile).
6410 Continuous Pipe Scanner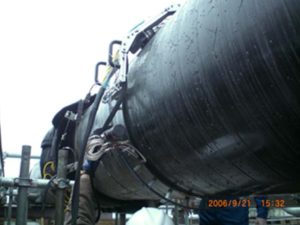 The 6410 was originally designed back in 2006 to more efficiently scan relatively long lengths between supports in the Alaskan Oil Pipeline. The area of interest was the bottom quadrant looking for significant corrosion. The scanner has since expanded to include optional features to inspect up to the full 360 degrees around the pipe.
Immersion Tanks
A range of immersion tank products are available, including:
·         9 or 10 axis through transmission and/or squirter systems (the 10th being a turntable)
·         5 or 6 axis standard tank (the 6th being a turntable)
·         Manually adjustable Z-Yoke as an accessory to provide through transmission and/or squirter capabilities for standard tanks
·         3 axis small laboratory tanks
·         Active Upgrades for existing tanks
·         Passive Upgrades for existing tanks
·         Drop in turntables
·         Drop in roller beds
·         Accessories for XY scanners to be used as Immersion Boxes
Return to the top of this page
Copyright 2020 AMDATA NDE Technology LLC, All Rights Reserved.